Amsoil Motorcycle Products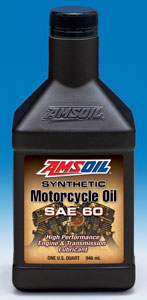 Ideal for Harleys and Older Bikes
Perfect for Combined Systems
Great for Wet Clutch and High RPMs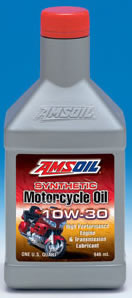 Excellent Friction Reduction Properties
Greatly Reduces Engine Heat
Perfect for Foreign and Domestic Models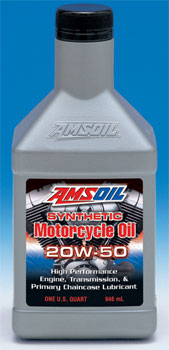 Perfect for Harley V-Twin Engines
Excellent Multi Functional Oil
Wet Clutch Compatible
Amsoil: Drain Intervals to Fit Your Lifestyle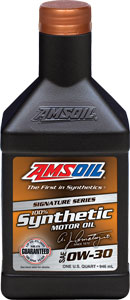 August 1st, 2012
Do you find it hard to stick to regularly-scheduled oil changes? Do you prefer, instead of following your vehicle's recommended schedule, to change the oil at 10,000 miles or even 25,000 miles? If so, then Amsoil has the perfect solution. You have the choice from among three different synthetic oils engineered for oil changes at 10,000 miles, 25,000 miles, and for specific intervals set by auto manufacturers.
XL Extended Life Synthetic Motor Oil
Amsoil XL Extended Synthetic Motor Oil comes in OW-20 (XLZ), 5W-20 (XLM), 5W-30 (XLF), 10W-30 (XLT), and 10W-40 (XLO) formulations to offer better fuel economy, high- and low-temperature protection and wear control in gasoline engines. XL will work for you if you change the oil in your vehicles every 10,000 miles or six months. It can go even longer if recommended by your vehicle's owner manual.
XL Extended Life oil is formulated with special additives that extends the service life of the oil, so that it can protect your vehicle's motor throughout the drain interval. When you use this formula, you can go six months or 10,000 miles before you have to change the oil. This saves you time and money if you're switching from an oil that doesn't have such a long drain interval. Additionally, a longer time between oil changes means less impact on the environment. You also protect the environment because Amsoil XL promotes proper catalytic converter operation, which reduces exhaust emissions. Additives reduce friction, ensure viscosity remains as intended in hot and cold weather, and resist carbon deposits and sludge. All of these benefits add up to mean your vehicle will run longer and better.
Signature Series 100% Synthetic Motor Oil
Amsoil Signature Series Synthetic Motor Oil comes in OW-20 (ASM), 5W-20 (ALM), OW-30 (AZO), 5W-30 (ASL), and 10W-30 (ATM) formulations to provide superior lubrication with its premier technology and additives. When you use this oil, you get up to 25,000 miles (or one year) of protection against wear.
If you'd rather go a year between oil changes, then you need to use this oil formulation! Engineered for extended drain intervals, the Signature Series Motor Oil reduces maintenance costs by offering protection against wear, friction, and oil costs. Even better, it's better for the environment than standard oils you have to change more frequently. This oil also reduces emissions and oil consumption, excels in extreme temperatures, and maximizes your fuel economy. This oil can be used in non-gasoline-fueled vehicles.
OE Synthetic Motor Oil
Amsoil OE Synthetic Motor Oil is for use when you follow the drain interval recommendations set by your vehicle's manufacturer. It comes in OW-20 (OEZ), 5W-20 (OEM), 5W-30 (OEF), and 10W-30 (OET) formulations and is suitable for use in all gasoline engines.
When you use Amsoil OE Synthetic Motor Oil, you will enjoy improved fuel economy, low emissions, protection in all temperatures, and a motor protected from carbon deposits and sludge. This helps you protect the environment and your wallet. This formulation is recommended for all domestic and foreign vehicles.