This product will typically ship within 24 hours from one of Amsoils 14 distribution centers in North America. This means that the product will ship to you from the closest possible location and most orders end up arriving in two to three days or less! Expedited shipping options are available as well.
Amsoil EA Synthetic Oil Filters EA15K20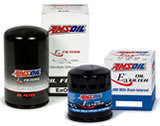 Please note that this page is specifically for part number EA15K20, by clicking on the "purchase now" button below, you will be taken directly to Amsoil's website to view pricing for this product and to purchase it if you choose.

Click Here to See if This Filter Fits Your Vehicle
Amsoil EA synthetic nanofiber oil filters are the absolute best oil filter that money can buy. Made with advanced nanofiber technology, these filters offer an efficiency rating of 98.7 percent at 15 microns. Amsoil EaO filters are recommended for 25,000 mile drain intervals in normal service and 15,000 mile drain intervals in severe service. Amsoil Ea15K filters are designed for 15,000 mile drain intervals in both regular and severe service.
Available Packaging for EA15K20