Many products here feature extremely cheap shipping or severe discounts for combining multiple items into one shippment. Additionally, our vendor often provides extra discounts on other fine automobile products with minimal purchase requirements! Click the buy now button to see possible discounts.
NGK Standard Spark Plugs NGK4210 (B5HS)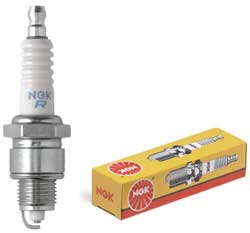 NGK Standard Spark Plugs are without a doubt the most versatile spark plug in the world. Excellent for applications ranging from auto and light trucks to powersports and lawn equipment, NGK standard plugs provide the spark you need for reliable performance. NGK plugs use a triple gasket sealing process that nearly eliminates gas leakage and improves overall performance. These plugs also feature a solid copper core for superior heat dissipation. Trust your starting and ignition to NGK.
Use The Form Below to See if These Spark Plugs Fit Your Vehicle.
Available Packaging for NGK4210