Amsoil Motorcycle Products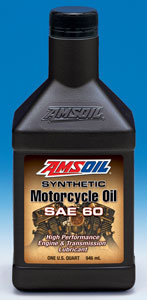 Ideal for Harleys and Older Bikes
Perfect for Combined Systems
Great for Wet Clutch and High RPMs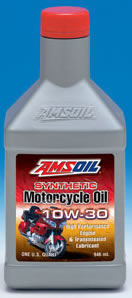 Excellent Friction Reduction Properties
Greatly Reduces Engine Heat
Perfect for Foreign and Domestic Models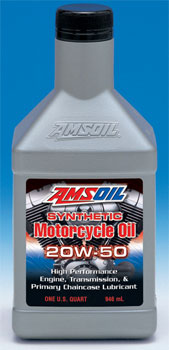 Perfect for Harley V-Twin Engines
Excellent Multi Functional Oil
Wet Clutch Compatible
AMSOIL's 0W-40 Synthetic 4-Stroke Oil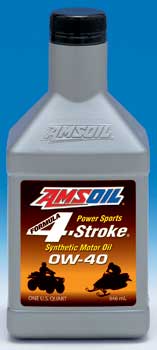 October 15th, 2012
AMSOIL Formula 4-Stroke Power Sports Synthetic Motor Oil (AFF) has been created specifically for snowmobiles, UTVs, ATVs, and other powersports equipment. It has a wax-free formula and a broad viscosity range, which makes it perfect for both cold and hot extreme temperatures. This means it works well in engines that run hot, yet its -60°F pour point guarantees that you'll have no trouble cranking and starting your machine in cold weather. It also offers post-startup protection without delay. This is an SAE 40-weight oil, with 0W rating.
Resists Thermal Breakdown and Heat
AMSOIL's 0W-40 4-Stroke Oil was engineered to resist oil vaporization, withstand high temperatures inside your snowmobile engine, and prevent oil vaporization. This helps to reduce varnish and carbon formation, minimize exhaust emissions, and control consumption of oil. Further, it works to keep your snowmobile engine clean so it runs at its best possible efficiency, and controls thickening of the oil so you don't waste fuel.
Anti-Foam Formulation
In high-RPM engines, churning can occur that makes oil foam. This increases the wear and heat, and reduces the oil's ability to lubricate. AMSOIL's Formula 4-Stroke Power Sports Synthetic Motor Oil has an anti-foam formulation that promotes cooler engine operation, controls foam, and reduces wear.
Advanced Protection Against Wear
AMSOIL AFF has shear-stable SAE 40 viscosity that provides a thick film of lubrication, and anti-wear additives to protect the gears, bearings, and pistons in transmission-containing units.
Excellent Protection for Transmissions
The oil has no friction modifiers and is wet-clutch compatible, which means you can use it with both two- and four-stroke transmissions. The formulation delivers maximum power and torque to the wheels and prevents clutch slippage. Frictional requirements of ISO-L-EMA2 and JASO MA/MA2 are met.
Specialized Additives
AFF has been specially formulated with additives that offer anti-rust protection for use in equipment that is infrequently- or seasonally-used, like snowmobiles. It also has detergent and dispersant additives that neutralize the large amounts of combustion by-products and acids typical in small engines.
Recommendations, Compatibility, and Applications
AMSOIL Formula 4-Stroke Power Sports Synthetic Motor Oil is recommended for two-and four-stroke powered applications with four-stroke engines and transmissions. It's an all-season, all-climate oil that can be used to replace 10W-40, 10W-30, 5W-30, 0W-40, and OW-30 oils for snowmobiles, ATVs, and UTVs, as well as other powersports machines. You can use it in Arctic Cat®, Ski-Doo®, Honda®, Polaris®, Suzuki®, Yamaha®, Can-Am®, and Kawasaki® machines. It's compatible with synthetic and conventional motor oils; however, mixing AMSOIL lubricants with others will reduce performance benefits and will reduce the oil's life expectancy. You should not use extended drain intervals if you have mixed the oils. Never use aftermarket oil additives with AMSOIL lubricants.
Package Sizes
This oil comes in package sizes of one-quart bottles, cases of 12 one-quart bottles, 30-gallon drums, and 55-gallon drums.