Amsoil Motorcycle Products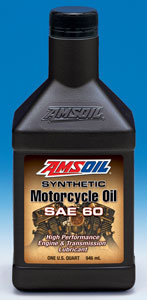 Ideal for Harleys and Older Bikes
Perfect for Combined Systems
Great for Wet Clutch and High RPMs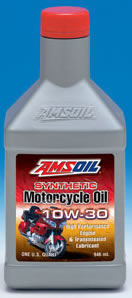 Excellent Friction Reduction Properties
Greatly Reduces Engine Heat
Perfect for Foreign and Domestic Models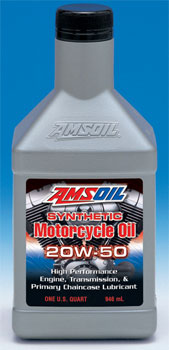 Perfect for Harley V-Twin Engines
Excellent Multi Functional Oil
Wet Clutch Compatible
AMSOIL makes superior oil filters for light trucks and cars.
November 9th, 2012
AMSOIL's Ea Oil Filters (EaOs) have the very best rating for efficiency in the light truck and automotive market. EaOs are 98.7% efficient at 15 micros, in accordance with industry standard ISO 4548-12. Competitive conventional cellulose filters range from being only 40% efficient to 80% efficient.
Retains Contaminants
The capacity of a filter is its ability to hold contaminants and still remain effective. AMSOIL's EaOs can hold more small-diameter, damage-causing bits of particulate and other contaminants than competing filters. When you use Ea Oil Filters along with AMSOIL's synthetic oils, EaO Filters are guaranteed for up to one year or 25,000 miles, whichever comes first.
Lower Restriction
Compared to conventional filters made with cellulose, EaO have less restriction due to more contaminants being held in the nanofibers. The synthetic fibers trap smaller particles that conventional filters do not. Additionally, during cold-weather start-up and warming up periods, AMSOIL's filters allow oil to flow more easily through the filter as compared to a regular cellulose one. This lower restriction prolongs engine life because there is less wear.
Superior Construction
The media that comprises AMSOIL's filters are of premium-grade full-synthetics. The processing of these filters are strictly controlled, which means that the filters are made accurately each time. Compared to conventional filters, these ones are more durable, efficient, and have a higher capacity. In a regular filter, the hot oil that passes through binds the cellulose media. EaOs are resin-free technology, which means that they are safe from binding. Instead, the media inside the filter is pleated, with a wire screen backing that resists binding. They also have a durable silicone anti-drain valve that will last the life of the filter, fully-tucked seams, roll-formed threads, and a molded element seal.
Service Life
AMSOIL's EaO Filters are guaranteed for up to one year or 25,000 miles, or whatever comes first, if used with AMSOIL synthetic oils. The filter should always be changed when the oil is changed, even if the oil is changed at an interval of less than 25,000 miles. AMSOIL's oil filters are not guaranteed for up to one year or 25,000 miles if used with any other oil. In these cases, please change according to your vehicle's OEM recommendations.
Applications
AMSOILS's oil filters are recommended for use in any light truck or car.