Amsoil Motorcycle Products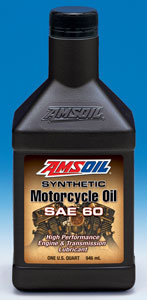 Ideal for Harleys and Older Bikes
Perfect for Combined Systems
Great for Wet Clutch and High RPMs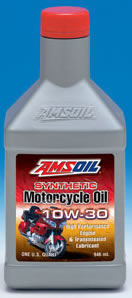 Excellent Friction Reduction Properties
Greatly Reduces Engine Heat
Perfect for Foreign and Domestic Models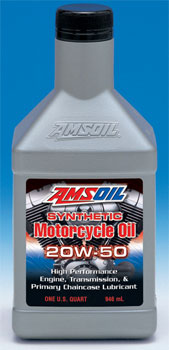 Perfect for Harley V-Twin Engines
Excellent Multi Functional Oil
Wet Clutch Compatible
AMSOIL in Diesel Trucking Applications – Diesel Fleet Fuel Economy Study
November 29th, 2012
As the price of fuel continues to increase, the profit margins for fleet operations such as delivery services, energy providers, and beverage companies continues to be hacked away. These companies are looking for any way to improve their fuel economy and thereby decrease costs. One way to do so is to use synthetic lubricants. AMSOIL performed a diesel fleet study to determine if AMSOIL synthetic lubricants increase fuel economy in these short- to medium-haul diesel applications.
Methods Used
Two Ford diesel trucks were tested simultaneously. One, the control vehicle, was tested using conventional lubricants while the test vehicle was tested using synthetic lubricants from AMSOIL. The tests were done according to SAE J1321 In-Service Fuel Consumption Test Procedure recommendations.
This test is made up of a baseline segment as well as a test segment. The baseline segment was done on a route that was pre-determined to have been representative of driving conditions in the real world. After each run, a Test/Control (T/C) ratio was produced by dividing the total fuel that was consumed by the test vehicle by that consumed in the control vehicle. To calculate the final results, testers used an average of three T/C ratios all within a 2% range. This baseline segment determined the baseline fuel consumption with conventional lubricants.
The test segment was performed in exactly the same fashion, except the test vehicle was run using AMSOIL synthetic oils in the front and rear differentials, transmission, and engine.
Vehicles Used
The control and test vehicles were both 2001 Kenworth T800B with Cummins N14 engines. The trailers used were both 2002 Wabash 53' trailers.
Baseline Segment Oil Used
Before the test, both the test and the control vehicles received a lubricant flush on the front and rear differentials, transmission, and engine. They were then filled with Chevron's Texaco Multigear EP 80W-90, Chevron's Texaco Multigear EP 80W-90, and Chevron's Texaco URSA Super Plus 15W-40, respectively. These oils were brought to operating temperatures and then flushed, and then the oils were installed again to ensure the fluid exchange was complete. The test then proceeded.
Driving Conditions and Route
Both the test and control vehicles followed the same procedures of rpm before shifting and acceleration, and variations in travel speed. Drivers engaged cruise control in the same spot along the route, eliminated aerodynamic interaction by maintaining appropriate following distance, and braked in appropriate manners.
The route was 40-miles long and included approximately 36.6 miles of highway driving at 60 mph and approximately 3.4 miles of city driving at 30 mph.
The test segment followed the same route and driving procedures.
Test Segment Oils Used
Once the baseline segment was completed, the test vehicle received a flush according to the previous procedure. The front and rear differentials, transmission, and engine were then filled with 75-90 Long-Life Synthetic Gear Lube, SAE 50 Long-Life Synthetic Transmission Oil, and Premium API CJ-4 5W-40 Synthetic Diesel Oil, respectively.
Results
For every one gallon of fuel consumed by the control vehicle, the test vehicle consumed 1.07 gallons of fuel. This indicates that the test vehicle showed worse fuel economy even though both used the same oils under the same conditions.
For every one gallon of fuel consumed by the control vehicle, the test vehicle (with AMSOIL oils) also consumed one gallon of fuel. Because the test vehicle showed that it suffered from worse fuel economy, the switch to synthetic lubricants improved fuel economy. Testers determined that there was a 6.54% improved fuel economy using AMSOIL's synthetic oils.
Annual Savings
With 120,00 annual miles, the annual savings will add up to $5,055 for one truck, $50,550 for 10 trucks, and $252,750 for 50 trucks.