Amsoil Motorcycle Products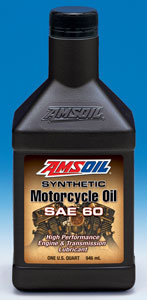 Ideal for Harleys and Older Bikes
Perfect for Combined Systems
Great for Wet Clutch and High RPMs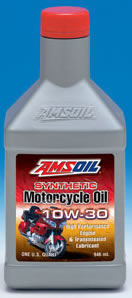 Excellent Friction Reduction Properties
Greatly Reduces Engine Heat
Perfect for Foreign and Domestic Models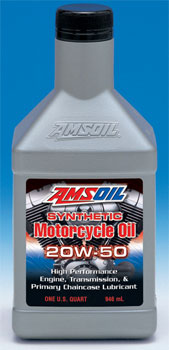 Perfect for Harley V-Twin Engines
Excellent Multi Functional Oil
Wet Clutch Compatible
My AMSOIL Garage
October 4th, 2012
If you have a hard time keeping track of your vehicles' oil requirements, or just want to find out the best oil to use for each of them, then AMSOIL's MyAMSOILGarage is a perfect online tool for you. As long as you have a computer that is hooked up to the Internet, you can use the program, and it's completely free. All you have to do is sign up for a free AMSOIL online account, and sign in.
Click here to try MyAmsoil Garage Now!
What it does
The company developed the online software to store vehicle information, track your oil and filter changes, make product recommendations, and facilitate product ordering. You can even set it so that you receive email reminders to perform maintenance - and not just oil change information, either. You can set it to track other maintenance like brake work; belt changes; services for coolant, spark plugs, transmission fluid, air filter, wiper fluid or wiper replacement, or fuel filter; and tire rotations or replacement. If the maintenance service you want to track doesn't appear in the drop-down list, you can add it manually.
Track your vehicles
You can use it for your regular day-to-day vehicles, your powersports toys, or even a whole fleet of vehicles. If your vehicle does not appear in the list shown, you can create a customized record for it. That means you can track farm equipment, semi trucks, and vintage cars, too. There is tons of space for you to input all of your vehicles and keep track of everything easily.
Features of the program
The site is very user-friendly. On the left-hand side of the page, you see drop-down lists of all of your vehicles. You can sort them into folders so you can keep different types of vehicles together, or you could even sort them by owner, if you keep track of your husband's/wife's/significant other's/child's vehicles as well. Below that is a section that offers links that say Need Help, Preferences, and Export Garage Data.
On the larger right side, you see a list of all of your vehicles and (if you select the "Show Instructions" button, instructions on how to add a vehicle. You can also watch a video tutorial to learn more about the online program. Once you click on a particular vehicle, you can view the details. At the top portion of that section, there are buttons for Products, Email Reminders, Add Equipment, and Add Service.
The Products page lists all compatible lubricants and fluids, filters, NGK plugs and wiresets, wiper blades, Capacities, Torques, and other products.
The Email Reminders page allows you to set email reminders for maintenance of air filter change, automatic transmission fluid change, coolant flush and change, fuel filter change, oil and filter change, oil change, spark plug and wireset replacement, spark plugs replacement, tire rotation, and wiper blade replacement.
The Add Equipment and Add Service is where you go to customize the site for that particular vehicle.
All in all, it's a great site, and one that everyone could use to get the most out of their lube and fluid and to help keep their vehicles maintained.