Amsoil Motorcycle Products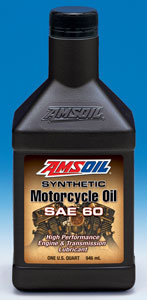 Ideal for Harleys and Older Bikes
Perfect for Combined Systems
Great for Wet Clutch and High RPMs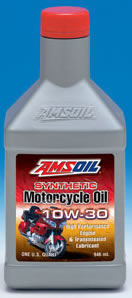 Excellent Friction Reduction Properties
Greatly Reduces Engine Heat
Perfect for Foreign and Domestic Models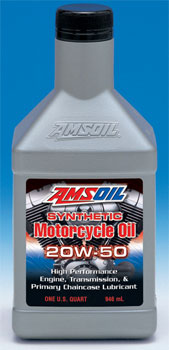 Perfect for Harley V-Twin Engines
Excellent Multi Functional Oil
Wet Clutch Compatible
The Benefits of Amsoil HP Marine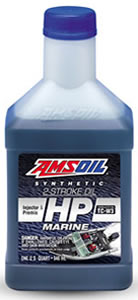 July 25th, 2012
When you want your two-stroke marine engine to enjoy the longest life possible, you need Amsoil HP Marine Synthetic 2-Stroke Oil. Engineered for maximum performance, Amsoil HP Marine, formerly called "Amsoil HP Injector," protects your outboard engines from deposits and wear that can shorten the engine's life and cost you so much money. The oil is meant to run in both normal and in lean-mix ratios; lean-mix allows you to comply with the government's exhaust emissions mandates, saves you money on oil purchases, and protects marine life. Its low-toxicity, low-smoke, and low-odor qualities make it the ideal oil for outboard engines. Why use "dinosaur sludge" (petroleum-based oil) when you can use synthetic oil engineered using cutting-edge technology and research?
Amsoil is a company dedicated to engineering high-quality synthetic motor oil. The company prides itself on its lab research, field validation, and field research to bring you the best synthetic oil possible. Results of this testing show that Amsoil for outboard motors maximize fuel efficiency, decrease maintenance time, and reduce engine wear.
Recently, Amsoil performed a test that proves that HP Marine can replace Evinrude XD100 in Evinrude E-TEC engines. The test showed that the two oils (Amsoil HP Marine Synthetic 2-Stroke and Evinrude XD100) offer nearly identical lubrication performance. This means you can enjoy the outstanding protective benefits of Amsoil oil for your outboard engine without emptying your wallet, since Amsoil Marine is much more affordable than Evinrude XD100. You don't have to sacrifice quality for cost.
Today's two-stroke marine motors run in such a way that they can often exceed the film strength of some oils, which means more wear and scuffing damage is suffered through normal use. HP Marine Synthetic 2-Stroke Oil prevents cylinder bore scuffing, reduces friction between all moving parts, and prevents piston skirt scuffing. Not just for brand-new engines, HP Marine will also work well with your older oil-injected 2-strokes and will prevent against further wear, build-up, and rust. For pre-mix applications, use it at a 50:1 ratio.
Formulated with MAXDOSE™, HD Marine runs super-clean with up to 30 percent more additives than those in other brands, and helps to prevent deposits that can sacrifice performance. Amsoil HP inhibits the ring deposits that other oils can leave, which leads to ring jacking and ring sticking. Tests also show that HD Marine virtually eliminates exhaust port deposits. This promises you efficient, reliable operation of your outboard engine so you can concentrate on enjoying your time on the water rather than worrying about your boat's engine.
The oil you used to know as Amsoil HP Injector offers superior performance in DFI outboard engines, because its precise formulation not only meets, but exceeds the lubrication demands of today's high-performance motors.
Amsoil HP Marine is recommended for use in all of your 2-stroke engines, including (but not limited to) Johnson, Mercury EFI & Optimax, Johnson and Evinrude FICHT and E-TEC, Nissan and Tohatsu TLDI, Yamaha HPDI, and Suzuki. HP Marine is also ideal for Yamaha Waverunners, Kawasaki Jet Ski's and Sea Doo, Polaris and other two stroke personal watercraft.