Amsoil Motorcycle Products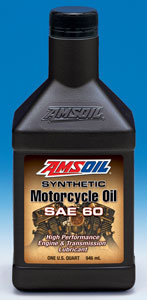 Ideal for Harleys and Older Bikes
Perfect for Combined Systems
Great for Wet Clutch and High RPMs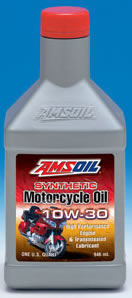 Excellent Friction Reduction Properties
Greatly Reduces Engine Heat
Perfect for Foreign and Domestic Models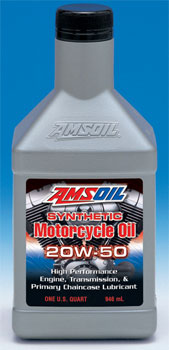 Perfect for Harley V-Twin Engines
Excellent Multi Functional Oil
Wet Clutch Compatible
Interceptor Synthetic 2-Stroke Oil For Snowmobiles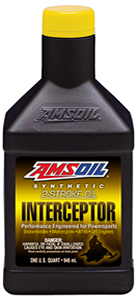 September 11th, 2012
When you're a snowmobile enthusiast, you know that your machine is meant to be ridden aggressively, with its throttle wide-open. But that tends to be hard on an engine, and you need a 2-stroke oil that will give your machine's engine some longevity. AMSOIL's Interceptor Synthetic 2-Stroke Oil is specially formulated for high-performance powersport equipment like your snowmobiles, ATVs, dirt bikes, and PWCs. It allows you to ride more and worry less about engine maintenance.
Benefits of Interceptor Synthetic 2-Stroke Oil include:
Protects against engine wear.
Helps stop plug fouling.
Outstanding performance.
Prevents exhaust power valve and piston ring sticking.
Low odor and smoke.
Use it in all 2-stroke snowmobile makes and models.
Stays fluid at cold temperatures.
Applications
Interceptor is compatible with most other two-stroke oils and can be used in most makes and models. This means you don't have to buy and keep on-hand more than one type of oil for your toys. Use it in your Arctic Cat®, Polaris®, Yamaha®; Suzuki®, Kawasaki®, BRP®/Ski-Doo® (Rotax® T-TEC® engines), Electronic-fuel injected, direct-fuel-injected, and carbureted engines.
Use it in a 50:1 premix as an injection oil. If using as premix, the ration should be 2.6 oz per U.S. gallon of fuel. While Interceptor is compatible with most other oils, it's best to limit mixing to enjoy the best performance possible.
Recommended for all engines where APT TC or JASO FC two-cycle oils are specified, Interceptor is formulated to replace the two-cycle oils marketed by your recreational equipment manufacturer's branded oils. Save money and protect your vehicle's engine!
Protect Against Deposits
When you use this two-stroke oil, your snowmobile's engine will be protected from harmful deposits because Interceptor has a thermally stable synthetic formulation with high-temperature dispersancy and detergency additives that keep your engine clean. In tests, the oil showed effective at preventing exhaust power valve and piston ring sticking, as well as combustion chamber, spark plug, and piston deposits.
Prevent Piston Skirt Scuffing
Another benefit of Interceptor is that it is specially formulated to resist burn-off, which means that more oil remains after combustion to provide protection and lubrication. Extreme dynamometer testing showed that the oil prevents piston skirt scuffing.
Stays Fluid at Low Temperatures
Of course, an oil is no good for you if you can't pour it in cold temperatures. Interceptor oil is pourable at temperatures down to -60°F!
Warranty
You can use AMSOIL Interceptor Synthetic 2-Stroke Oil with no fear of voiding your new vehicle or , because it's Warranty Secureâ"¢. Additionally, it is backed by the AMSOIL Limited Warranty.
In all, Interceptor Oil is a fantastic investment for your powersports equipment, in particular, your snowmobile(s). You can ride hard all day long and never worry about your engine suffering from wear, deposits, sticking, or plug fouling. Enjoy low smoke and odor while you ride, too!