Amsoil Motorcycle Products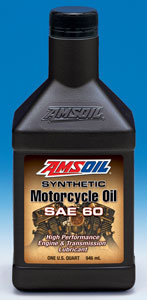 Ideal for Harleys and Older Bikes
Perfect for Combined Systems
Great for Wet Clutch and High RPMs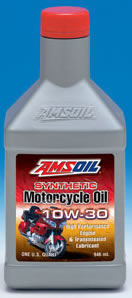 Excellent Friction Reduction Properties
Greatly Reduces Engine Heat
Perfect for Foreign and Domestic Models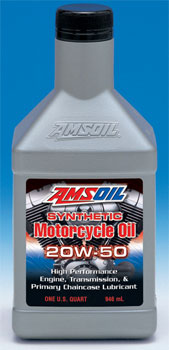 Perfect for Harley V-Twin Engines
Excellent Multi Functional Oil
Wet Clutch Compatible
Amsoil Saber Means Less Hassle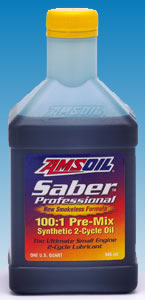 August 8th, 2012
If you're like most of us, you probably have many different pieces of handy equipment and toys in your garage or shed that use 2-cycle motors, like a lawnmower, snow blower, leaf blower, ice auger, boat, ATV, motorcycle, and chain saw. Before, you had to keep different types of oil with different mixes for each item; now, you can use Amsoil Saber Professional 100:1 for all of them. It's pre-mixed, so you don't have to worry about it!
Amsoil Saber is synthetic oil specifically formulated for lean mix ratios and has premium additives. Saber 2-cycle oils (Professional and Outboard) help to prevent ring sticking, plug fouling, exhaust port blocking, and wear. It also reduces friction and helps to protect against rust, which is especially helpful in those appliances that are stored outside in your unheated garage or shed. You have two choices: Saber comes in both an Outboard and a Professional formulation.
Saber Outboard (ATO)
Saber Outboard is especially formulated for your outboard motor(s). It has a large amount of low-temp dispersant additives that help to reduce or eliminate carbon deposit and varnish. You can also use Saber Outboard in your snowmobile, personal watercraft, motorcycle, ATV, and jet boat. It boasts low-toxicity, low-odor, and low-smoke properties that produce fewer emissions mixed at 100:1 compared to those mixed at 50:1. This benefits both you and the environment, because you don't have to be exposed to toxic or smoky emissions blowing back in your face, and you don't have to worry about polluting the world around you. Saber is especially ideal for use in trolling motors because it was made to prevent plug fouling and oil loading. This gives you rapid throttle response when you need it. Use Saber Outboard where API TC or TC-W3 is recommended.
Saber Professional (ATP)
Saber Professional is especially useful when you're on a camping or hunting trip with a bunch of different gadgets that have a 2-cycle motor. Instead of carrying a few different cans of oil, take along Amsoil Saber Professional and forget about it! Because it works on a wide range of items, you can use one mix for multiple pieces of equipment. This will save you time, space, and money. You can use it in your lawn equipment, pumps, blowers, chainsaws, chop saws, scooters, go-cats, motorcycles, snowmobiles, jet boats, personal watercraft, and ATVs. It comes in a 3.5 oz container, perfect for treating your two or 2.5 gal gas can. Formulated especially for high-temperature running, it has detergent additives to prevent carbon deposits from forming in your small engines. It runs smokeless, which helps to eliminate fumes and smoke when you operate your small motor equipment. When you're used to using other oils mixed at 50:1, you'll be surprised at the reduction of emissions and smell. Use Saber Professional 100:1 Pre-Mix Synthetic 2-Cycle Oil when the application calls for ISO-L-EGD, API TC, or JASO FD is recommended.
Feel free to use richer mix ratios when desired.