Amsoil Motorcycle Products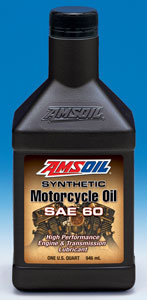 Ideal for Harleys and Older Bikes
Perfect for Combined Systems
Great for Wet Clutch and High RPMs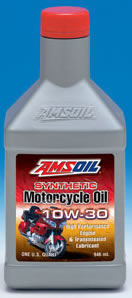 Excellent Friction Reduction Properties
Greatly Reduces Engine Heat
Perfect for Foreign and Domestic Models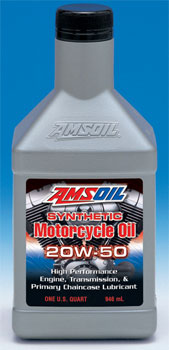 Perfect for Harley V-Twin Engines
Excellent Multi Functional Oil
Wet Clutch Compatible
Amsoil Warranty Secure

September 28th, 2012
AMSOIL's Warranty Secure program assures users that if they use AMSOIL lubricants instead of the lubricants recommended by the manufacturer, it will not void the new vehicle or equipment manufacturer's warranty. Even if a user practices extended drain intervals while using AMSOIL lubricants, the warranty will remain valid.
Magnuson-Moss Warranty Act
According to the Magnuson-Moss Warranty Act, via the Federal Trade Commission, it is illegal for any dealer to deny warranty coverage due to the fact that that the user had maintenance or repairs done by someone else. this includes tire rotations, fluid checks or flushes, oil changes, inspections, new brake pads, or belt replacements.
Further, a machine owner does not have to use the dealer for maintenance and repairs to keep the manufacturer's warranty in effect. Basically, the Act makes it illegal for any company to void a warranty or deny coverage under the warranty due to the fact that the recycled part or aftermarket part was used. In fact, "The manufacturer or dealer must show that the aftermarket or recycled part caused the need for repairs before denying the warranty claim."
For further information, read more about the Magnuson-Moss Warranty act by clicking the link below:
http://www.ftc.gov/bcp/edu/pubs/consumer/alerts/alt192.shtm
AMSOIL's Warranty
AMSOIL's warranty promises that if you put AMSOIL lubricants in your vehicle, or use an extended drain intervals with AMSOIL oil contrary to the manufacturer's recommendations to use their oil, they cannot void your warranty. If a mechanic, OEM, or dealership says your warranty will be voided if you don't use the recommended oil, or if the manufacturer does deny your warranty claim without proof that the oil caused a need for repairs, forward a copy of the documents or written statement to AMSOIL Technical Services.
Lubricant and Filter Warranties
AMSOIL offers a limited warranty for its lubricants and filters. If you have a warranty issue with your vehicle, make sure to draw and keep eight ounces of oil from the failed equipment. Put it into a clean, dry container and file a warranty claim with the OEM if the warranty is valid, then notify AMSOIL. If the OEM denies the warranty claim based on your use of AMSOIL oil, pass along the denial to AMSOIL Inc.
If the issue arises as a result of a problem filter, or if the OEM denies a warranty claim and says it's due to your use of aftermarket parts, notify AMSOIL. Keep the filter and mail it to AMSOIL along with information about your vehicle, maintenance history, and proof of purchase of the filter, if you have it available.
Avoid Warranty Issues
To avoid issues with your warranty, be sure to:
Read the warranty thoroughly;
Service your car or vehicle or equipment regularly;
Keep all of your service records;
Be aware of the warranty period;
Complain if the dealer, mechanic, or OEM says your warranty will be voided if you fail to use manufacturer-recommended lubricants or filters!