Amsoil Motorcycle Products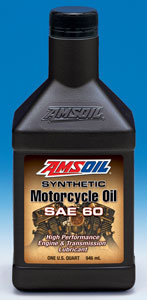 Ideal for Harleys and Older Bikes
Perfect for Combined Systems
Great for Wet Clutch and High RPMs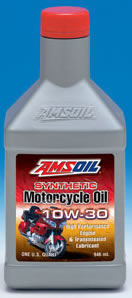 Excellent Friction Reduction Properties
Greatly Reduces Engine Heat
Perfect for Foreign and Domestic Models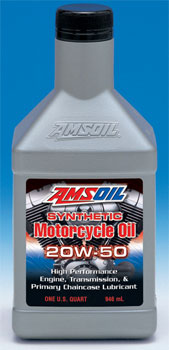 Perfect for Harley V-Twin Engines
Excellent Multi Functional Oil
Wet Clutch Compatible
Bombardier's Claims that Interceptor Is Not An Acceptable Oil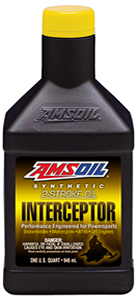 September 16th, 2012
As we know, Bombardier (BRP®) wants an API-TC oil be used in all their engines. They say that AMSOIL Interceptor Synthetic 2-Stroke Oil fails to meet the demands of its Rotax® E-TEC® engines they use in some of their Ski-Doo® snowmobiles. Recently, BRP® released a test they had supposedly done, that showed scuffing on a piston allegedly lubricated with Interceptor. Our position is, sure, they showed a scuffed piston, but was that piston really lubricated with Interceptor, and if so, what kind of methodology did the company use to come to this conclusion?
Bombardier's Test
AMSOIL requested that Bombardier provide its oil specifications they recommend for Rotax E-TEC engines, but the company refused. Instead, they simply gave a summary of a 25-hour engine dynamometer test that Bombardier says discredits Interceptor as a suitable oil for these engines. Moreover, BRP has even gone so far as to say that running Interceptor oil in their Ski-Doo snowmobiles will void the warranty.
It was later revealed that BPR modified the ECM to "simulate" 300 hours of normal service, which they say is reflective in the 25-hour dynamometer test. This, in turn, created a forced-failure of the engine that simply does not exist in real-world conditions. To say that the oil is what caused the scuffing on the piston rather than modifications that were done to skew the test is unbelievable at best and shameful at worst.
Dynamometer Testing
The purpose of oil is to form a thin film of lube between two surfaces to provide engine longevity and to reduce wear, friction, and heat on the components.To test the quality and efficacy of a lubricating oil, real-life engine tests must be performed, and then the results must be analyzed in order to come to a conclusion. Scientifically, it makes sense to run two or more brands or types of oil on two or more identical machines, each of which should be inspected thoroughly before the test. Each machine should be run for exactly the same duration so that the results can be compared. No alteration should be done to any of the machines before the test, either; to do so will skew results.
AMSOIL'S Response
AMSOIL failed to recognize BRP's test as being valid or accurate, and proceeded to perform their own dynamometer test comparing AMSOIL Interceptor Synthetic 2-Stroke Oil to XPS-2 Synthetic 2-Cycle Oil. The results may surprise you. Not only did the researchers prove that Interceptor is just as good as XPS-2, in some cases it actually held up better! When you consider that Interceptor is much more economical to run in a snowmobile engine, it makes sense to use it.
The Warranty Issue
Contrary to what Bombardier would have you believe, using Interceptor in your snowmobile will not and should not void your warranty. Your right to use the oil you choose is protected under the United States Federal Law by the Magnuson Moss Warranty Act of 1975, which states that the manufacturing company must prove that the oil caused the damage before it can void the warranty. Simply using the oil cannot legally void your warranty. Further, AMSOIL offers an additionally warranty if you choose to use Interceptor in your Rotax engine, according to the AMSOIL Limited Warranty.
For more information on the Interceptor study, see the proof by clicking here.