Amsoil ATV Products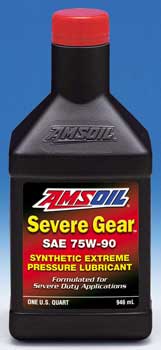 Superior Film Strength
Made for High Demand Situations
Protects From Wear and Scoring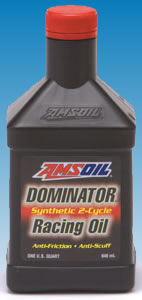 For High Performance Applications
High Thickness and Viscosity
Ultimate Protection for Modified Engines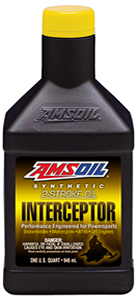 Desinged For Exhaust Valves
Superior Wear Reduction
High Detergent Formula
Amsoil ATV Products
Amsoil Two Stroke ATV Lubricant Recommendations
Amsoil Four Stroke ATV Lubricant Recommendations
Amsoil ATV Filtration Recommendations

Amsoil offers a wide variety of excellent lubricants for two cycle ATV applications. Click on the application chart thumbnail to get a better idea of what product might best fit your needs or read the individual product descriptions below.
Amsoil Interceptor is the ideal lubricant for ATV's utilizing exhaust valves or other applications where maximum protection and lubricity is required. This high detergent formula provides maximum engine protection and greatly reduces engine wear and breakdown compared to conventional oils. Additionally it's proprietary synthetic base oils allow for excellent operation across a wide temperature range.
Amsoil Dominator is the perfect oil for high strung racing ATV's or just owners who have pushed their ATV engines to the limits. Dominator is a high detergent, high viscosity formulation that not only keeps your engine clean but provides unmatched protection during extreme situations. This is by far the best oil available for the high stress situations many ATV engines encounter.
Amsoil has a complete line of four stroke lubricants for your ATV, in addition to the excellent oils listed below, Amsoil Motorcycle oils are an excellent option for your ATV as well.
Amsoil Formula Four Stroke 0W-40 Powersports Oil
Amsoil Formula Four Stroke Powersports Oil is a wet clutch compatible lubricant that was designed specifically to meet the needs of the modern ATV's. This special formulation has a wide viscosity range which makes it perfect for the varying temperatures and seasons that ATV's operate in.
Amsoil lubricants work best when combined with an Amsoil filter recommendation. Amsoil EA filters are the best available and will provide the protection your ATV deserves.
Amsoil EA ATV oil filters are made of advanced nano fiber technology and offer far superior filtration when compared to conventional filters. Amsoil EA filters are the absolute highest efficiency filter available for your ATV. Not only will they greatly extend the life of your oil, they will reduce maintenance costs and prolong the life of your engine as well. Amsoil's EA ATV filters provide the ultimate filtration for the dirty and harsh conditions that your ATV is likely to encounter.